In the recent times China's presence in the Indian sub-continent has gradually increased. This presence has been primarily in the form of the One Belt One Road Initiatives such as CPEC and the Hambantota Port proposal. However, apart from this economic, political and social intrusion is accompanied by militaristic intrusion.
Chinese intrusion into the Indian borders in the Himalayas has led to rival military buildups and intermittent clashes that have received little attention from the west. This escalating border dispute has set into motion a long-term rivalry that could reshape Asian geopolitics[i].
This rivalry has now knocked on the borders of our neighbour Bhutan that is currently holding talks with China regarding it border dispute. This dispute can be traced from the 19th Century.
Since 1857 the Chinese have repeatedly voiced the sentiment that Nepal, Bhutan, Sikkim and Tibet all formed the part of Chinese empire. This rhetoric is thought to have been repeated by Mao Zedong himself when in 1930 he declared that 'the correct boundaries of China would include Burma, Bhutan, Taiwan, Nepal, Korea and Ryuku islands'[ii].
In recent times, with the growing aggressive nationalistic tendencies under Xi Jinping, aggressive expansionism and growing military tendencies have become a hallmark of Chinese behaviour.
China has already intruded and constructed military infrastructure near the disputed region Doklam. It is under these circumstances, that China's recent claim over the Sakteng Wildlife Sanctuary is seen with great apprehension.
This article aims to examine the China-Bhutan Border dispute and its implications on South Asia by examining and identifying regional security concerns.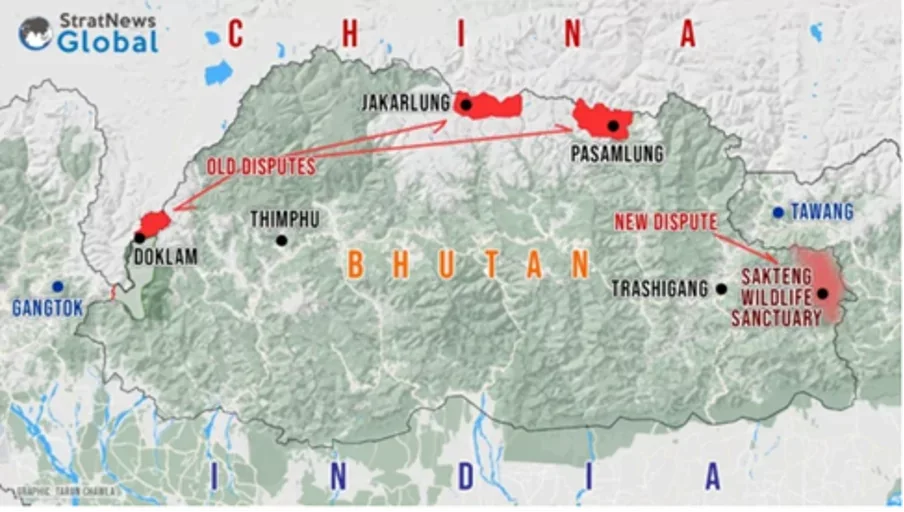 FIG 1. A MAP OF BHUTAN DEPICTING ALL OF THE REGIONS CLAIMED BY CHINA INCLUDING THE NEW CLAIM PUT TOWARD SAKTENG WILDLIFE SANCTUARY NEAR TAWANG. (IMAGE TAKEN FROM-https://jamestown.org/program/expanding-and-escalating-the-china-bhutan-territorial-dispute/)
In the 1950s, Beijing laid claim to three areas in Bhutan: Pasamlung and Jakarlung in the north near Tibet, and Doklam in the west near India.
For the Chinese, Bhutan & other Himalayan frontier states were 'wrongly' held by 'imperial India'. This rhetoric was enough to scare Bhutan which became concerned following the events in Tibet that had led to the 14th Dalai Lama and thousands of other Tibetans to flee their homeland in 1959. The combination of these events led to a total ban on trade with Tibet that was now under the Chinese government in 1960 and withdrawl of Bhutanese representative and their officers in Lhasa and in western Tibet .
It has been argued that due to influence and historical linkages with New Delhi, diplomatic ties between Bhutan and China were never established. However, China has attempted to force the issue with Bhutan in order to open direct border negotiations. There were largescale Chinese incursions in 1979. Back-channel diplomacy saw talks commence in 1984, led by the Embassy of Bhutan in India, which was a significant revealing sign of New Delhi's interest regarding any Sino-Bhutanese rapprochement .
There have been many rounds of border talks between China and Bhutan. These talks have often seen Bhutan walking a difficult path between China's entreaties whilst trying to manage India's security concerns. In 1988, the Guiding Principles on the Boundary Issues was agreed upon by both the states . A breakthrough occurred in 1996 when Beijing offered to concede its 495 sq. kms claims towards Pasamlung and Jakarlung, in return for Bhutan yielding 269 sq. kms of land at Doklam and the nearby areas of Dromana, Sinchulung and Shakhatoe. For Bhutan, the sticking point in settling the border with Beijing is Doklam, a plateau which commands views of the Chumbi Valley and sits in proximity to Sikkim (in India) and the 14-mile wide Siliguri Corridor, a narrow land bridge which connects the 'Seven Sisters' states of the northeast to continental India. Substantial Indian pressure was brought to bear on Bhutan to reject the package, fearing any change in the status quo at Doklam, which would give Beijing a terrain advantage over New Delhi at one of India's most sensitive geographic points .
With the border dispute not resolved, China and Bhutan signed the 'Treaty to Maintain Peace and Tranquillity' in 1998 that promised no unilateral alterations to the status quo by either party.
In the 24 years since then, the northern border has remained contested, with frequent low-level incursions in the 2000s by Tibetan herders and People's Liberation Army (PLA) patrols, combined with offers of massive packages of economic assistance by Beijing in exchange for Bhutan yielding Doklam, an approach that was used by China with Nepal .
In this context, we see the use of the key pillar of recent Bhutanese diplomacy -careful use of silence to de-escalate border tensions. The use of this form of diplomacy became especially clear during the 2017 Doklam crisis . The crisis was exacerbated by the tri-junction tussle that is demarcated by the Tibet's Chumbi Valley to the north, Bhutan's Haa Valley to the east, and India's Sikkim state to the west. Haa is strategically important for India because the IMTRAT (Indian Military Training Teams) has its base in the Haa town. India and China have primarily struggled on the issue of where the tri-junction lies .
In the recent times, China has attempted to claim areas such as the Sakteng Wildlife Sanctuary as a part of Mainland Chinese territory . These claims provide evidence that China is in violation of both the 1988 and 1998 Sino-Bhutanese border agreements .
SAKTENG WILDLIFE SANCTUARY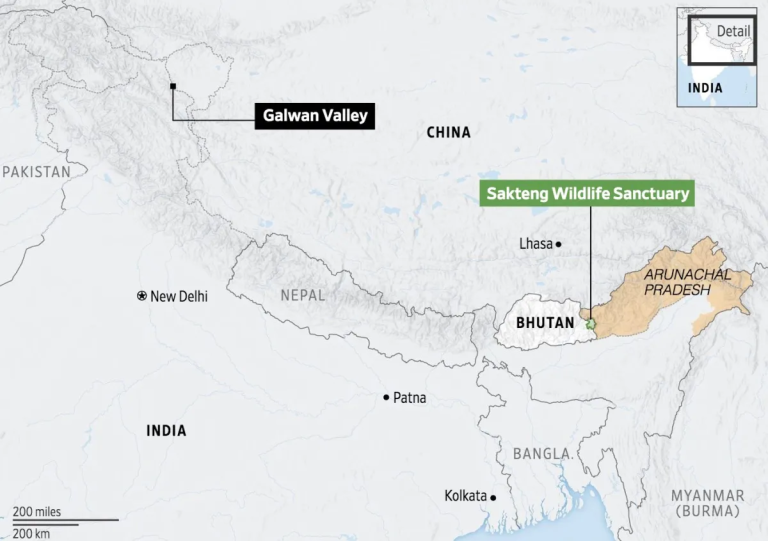 FIG 2. THIS MAP SHOWS HOW THE RECENT CLAIM BY CHINA IS A THREAT TO INDIA'S SECURITY CONCERNS. (IMAGE TAKEN FROM- https://asiatimes.com/2020/07/why-china-wants-a-himalayan-dispute-with-bhutan/).
Recently, China has claimed Sakteng Wildlife Sanctuary/SWS as a part of its territory. Located in the eastern most part of the country in Trashigang Dzongkhag (one of the Largest districts in Bhutan), it covers an area of 739 sq km². Three major rivers- Manas Chu, Bada Chu and Dhansiri Chu – have their origin here .
The villages of Merak and Sakteng are situated in the sanctuary. Their 6000 inhabitants-Brokpas are nomads who rear yaks and cattle herds for sustenance .
The Sanctuary is an important area of concern due to it bordering the neighbouring Indian State of Arunachal Pradesh. This new claim by China was made during a virtual conservation meeting of the Global Environment Facility in the month of June in 2020.
The Bhutanese government in the meeting had requested aid for projects in the park from the Global Environmental Facility . However, the Chinese representatives in the meeting objected, stating that the area in discussion was disputed and funds should not be allocated .
This new claim by China has been vehemently been rejected by Bhutanese government that has pointed out that the area has never featured in 24 previous rounds of boundary talks.
According to Tenzing Lamsang, the editor of the weekly newspaper The Bhutanese, most of the official Chinese maps have showed Sakteng as part of Bhutan. Even in the 2014's most ambitious map by China the vast territorial claims that include India's Arunachal Pradesh were shown. However, even in that map Sakteng park was shown as part of Bhutan .
Academics in India and Bhutan have pointed out that this park has never been marked as a disputed region and has always been under the control of Bhutan. China's claims are perhaps a way to put pressure on not just Bhutan but also India. As the Sakteng Sanctuary is located near the Indian state of Arunachal Pradesh which is a region claimed by China as a part of its territory. It thus seems, that China views the Sakteng Wildlife Sanctuary as an extension of Arunachal Pradesh .
It is believed that the Chinese by putting pressure on Bhutan are testing India's resolve to help its neighbour. Bhutan's way to handle the Chinese claims can be best understood through the statement given by a Bhutanese analyst, who argues that – China is a reality that has been accepted by all countries. Bhutan also needs to accept that China is a geographical reality. Bhutan's access to the world is through India. The feeling is if Bhutan tries to neglect India to go with China, that's going to be suicidal .
CHINESE DREAM & SAKTENG WILDLIFE SANCTUARY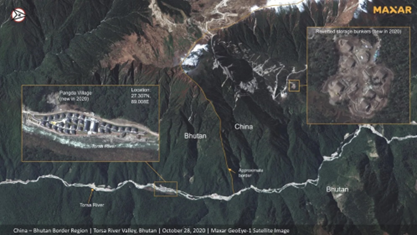 China's claim over Sakteng Wildlife Sanctuary can be understood from the growing expansionist rhetoric of China which is not just regarding Bhutan but is also manifest in China's claim over South China Sea and various other regions. This rhetoric can be linked to the "Chinese Dream" espoused by Xi Jinping.
Xi Jinping during his tenure has brought to fore the official ideology of the CPC which is a mix of communism, nationalism, and Leninism . This ideology aims to strengthen Xi's dream of a great national transformation for China.
The "Chinese Dream" is a nationalist ideology that provides the most reliable claim on the loyalty of the Chinese masses and the values shared by both the regime and its critics .
This ideology is imperialist and aims to bring in areas that China claims is a part of its territory.
China's consistently increasing presence in the region of South Asia can be described as a "string of pearls[i]"[ii]. This growing presence has raised alarm bells in India as many countries in our neighbourhood now have some form of Chinese presence. Much of this presence is economic in nature but in Bhutan with its claims over areas such as Doklam and Sakteng, there is danger that a situation that may be reminiscent of Tibet may play out.
China's approach to Bhutan has been primarily of carrots & sticks in order to reach some form of settlement. The Chinese have attempted to woo Bhutan, especially with offers of assistance and people-to-people contacts. The best example of such an approach was in April 2022 when the Chinese provided the Bhutanese with the necessary medical supplies to fight COVID-19. In the recent years, the use of sticks has intensified. There have also been encroachments made starting from the late 1990s when China has encouraged its citizens to settle in the disputed areas. Over the course of the following decades, China has successfully built roads, infrastructure, and even permanent settlements within Bhutanese territories .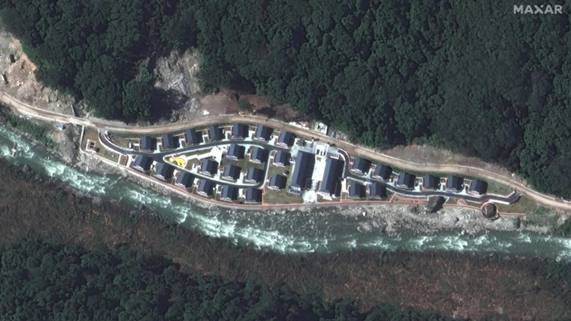 FIG 3 & 4. SATELLITE IMAGES BY USA BASED SATELLITE OPERATOR MAXAR TECHNOLOGIES THAT SHOW THE BUILD-UP OF CHINESE NEAR DOKLAM & THE TORSA RIVER VALLEY AREA. (IMAGE TAKEN FROM- https://edition.cnn.com/2020/11/24/asia/china-india-bhutan-doklam-intl-hnk/index.html)
Between 2020-2021, satellite images captured by the US- based Company Maxar indicated the construction of new villages in the North and the West . These villages are reinforced with military and police outposts, settlements, well-connected roads and bridges. The increasing intimidation indicates China's urgency to compel Bhutan to end the border disputes and to also gain a strategic advantage against India .
For India, this situation is of grave concern and adversely affects its security concerns especially with regards to India's North-East region.
India's apprehensions with regards to China-Bhutan are based on justifiable security concerns. China has claimed areas such as Aksai Chin and Arunachal Pradesh from India. By viewing these boundary disputes through the lenses of India's concerns with regards to China we can see why India is becoming increasing concerned with China's interest in Sakteng.
China has used various forms of stealth mechanisms such as Salami Slicing in order to establish its claim over territories such as Paracel Islands from Vietnam and Scarborough Shoal from Philippines. India fears that such tactics are at play in the case of Bhutan as well. This fear had been iterated by General Bipin Rawat, who referred to China as the Northern Adversary and stated that the flexing of muscles in the Himalayas has begun. The salami slicing, taking over territory in a very gradual manner, testing the limits of Indian threshold is something that the Government has to be wary about and remain prepared for situations that may emerge and gradually turn into conflict .
Felix K. Chang , has highlighted the following points regarding China's strategy behind the sudden claim over Sakteng:
China's control over the Tawang Valley is essential to provide any strategic advantage to China in case Bhutan surrenders the isolated enclave and only then can it directly threaten India's hold on Arunachal Pradesh/ North-East.
The claim may be a ruse to enhance its bargaining position and pressurise Bhutan into reconsidering the 1996 Beijing's "package solution" deal.
Portions of eastern Bhutan at one time were under the jurisdiction of the Tawang region, and Tawang itself was once governed by Tibet[i], the control over the Sanctuary supports China's broader claim to Arunachal Pradesh.
Complicate India- Bhutan relations especially because India played a key role in derailing its "package solution" offered to Bhutan. This will act as an indirect pressure to let Bhutan conduct its affairs independent of India.
Reinforce the narrative that China has become more powerful. Not content with discrete diplomacy, China seeks primacy in international dealings.
The way Beijing deals with low-key Bhutan may lead other countries which have disputes with China to contemplate how to deal with its ambitions.
In this context, it may be stated that China's covert methodology of quiet salami slicing, grey zone tactics and carrot & stick approach in order to gain access to important and strategic locations in South Asia is akin to her strategy adopted in the East and South China Seas.
INDIA & BHUTAN: THE ROAD AHEAD
According to Kavita Sewda, the developments in Bhutan signal the following points for India-
The Sakteng Sanctuary is not contiguous to China. Unless China has the Indian state of Arunachal Pradesh under its control, the Sanctuary would only be an enclave without any direct border with China (Tibet). It will reinforce Chinese claims over Arunachal Pradesh in its near entirety as part of Tibet.
Sakteng borders Tawang, which is possibly the least negotiable territory for Beijing while dealing with India in the entire eastern sector. Given the ongoing Sino-Indian tensions in the western sector in Ladakh, the timing of generating "new" dispute is to coerce India.
India had plans to construct a road connecting the Tawang with the foothills of Assam through the Trashigang district reducing the distance by almost 100 km. Bhutan stopped the construction of the road under Chinese pressure. The new territorial claim ensures that the road project is scuttled in the future.
There are similarities in China's creation of a territorial dispute in eastern Bhutan and its claim over the Galwan Valley. Chinese also had not claimed areas in Galwan Valley since 1962. China is thus preventing the construction of the Dorbuk – Shyok – Daulat Beg Oldie Road in Galwan valley in Ladakh.
Claim to more than 10 percent of sovereign Bhutanese territory may be primarily to coerce Thimphu into making concessions in other areas, such as Doklam, on terms favourable to China. Also, Chinese pressure on Bhutan may be designed to test the relationship between New Delhi and Thimphu.
Under these circumstances, we can say that a situation reminiscent of the Doklam may play out in Sakteng. Bhutan's issues with China regarding the border dispute, according to the Chinese, remain unresolved primarily due to Indian obstruction . While silence on part of Bhutan may buy it some time, it is can also be taken as a sure invitation for China to become bolder and test its strength by annexing parts of the Bhutanese territory like Russia did in Crimea in 2014 and Ukraine in 2022.The Bhutanese are committed to solve this issue at the earliest , which leads to two outcomes in the future-
The perceived popular opinion in favour of India among the people of Bhutan will slowly wane away, replaced by a more parochial stance considering that Bhutan is unnecessarily suffering due to the India's dispute with China.
Bhutan may succumb to the pressures and accept the 1996 package offered by China.
Thus, Bhutan and India's situation with regards to China can only be resolved if both the nations come together on a united platform and address the various points of contention together.
The paper is author's individual scholastic articulation and does not necessarily reflect the views of CENJOWS. The author certifies that the article is original in content, unpublished and it has not been submitted for publication/ web upload elsewhere and that the facts and figures quoted are duly referenced, as needed and are believed to be correct.
Brahma Chellaney, 2023- Stagecraft and Statecraft. April 26. Accessed May 17, 2023. https://chellaney.net/.
Pranav Kumar, 15 June 2011 "Sino-Bhutanese Relations: Under the Shadow of India–Bhutan Friendship." CHINA REPORT, Volume 46, Issue 3 243–252.
John Pollock, 2023- Bhutan's Borders: The China Challenge and the India Factor. January 23. Accessed May 19, 2023. https://blogs.lse.ac.uk/southasia/2023/01/23/bhutans-borders-the-china-challenge-and-the-india-factor/.
Pranav Kumar, 15 June 2011- "Sino-Bhutanese Relations: Under the Shadow of India–Bhutan Friendship." CHINA REPORT, Volume 46, Issue 3 243–252.
John Pollock, 2023- Bhutan's Borders: The China Challenge and the India Factor. January 23. Accessed May 19, 2023. https://blogs.lse.ac.uk/southasia/2023/01/23/bhutans-borders-the-china-challenge-and-the-india-factor/.
Ibid.
Ibid.
Ibid.

The 2017 Doklam Crisis was a military border standoff between the Indian Armed Forces and the People's Liberation Army of China over Chinese construction of a road in Doklam, a trijunction border area. On 16 June 2017 Chinese troops with construction vehicles and road-building equipment began extending an existing road southward in Doklam. While the crisis was resolved, a recent statement by the Bhutanese Prime Minister Lotay Tshering to the Belgian Daily 'La Libre' has brought in tensions in the relationship between the states of India and Bhutan.

Dr. Jyoti Prasad Das, 2023- The Tri-junction Tussle. May 1. Accessed June 9, 2023. https://thegeopolitics.com/the-tri-junction tussle/#:~:text=The%20tri%2Djunction%20between,Sikkim%20state%20to%20the%20west.
According to Bhutanese Historian Karma Phuntso, there is no evidence of any form of affliation between Sakteng Wildlife Sanctuary and China.
John Pollock, 2023- Bhutan's Borders: The China Challenge and the India Factor. January 23. Accessed May 19, 2023. https://blogs.lse.ac.uk/southasia/2023/01/23/bhutans-borders-the-china-challenge-and-the-india-factor/.
UNESCO TENTATIVE LISTS- Sakteng Wildlife Sanctuary (SWS). Accessed May 19, 2023. https://whc.unesco.org/en/tentativelists/5701/ and WWF- Sakteng Wildlife Sanctuary (SWS): A Lost World. Accessed May 19, 2023. https://www.wwfbhutan.org.bt/projects_/bhutan_biological_conservation_complex/sakteng_wildlife_sanctuary/.

WWF- Sakteng Wildlife Sanctuary (SWS): A Lost World. Accessed May 19, 2023. https://www.wwfbhutan.org.bt/projects_/bhutan_biological_conservation_complex/sakteng_wildlife_sanctuary/.

It is a US-based group which finances eco-friendly projects across the globe.
Anbarasan Ethirajan ,2020- Why Bhutan's Sakteng wildlife sanctuary is disputed by China. November 25. Accessed May 19, 2023. https://www.bbc.com/news/world-asia-55004196.
Ibid

These views have been reflected in an article by Anbarasan Ethirajan who interviewed Sangeeta Thapliyal, Professor of International Studies, Jawaharlal Nehru University for her take.

Anbarasan Ethirajan, 2020- Why Bhutan's Sakteng wildlife sanctuary is disputed by China. November 25. Accessed May 19, 2023. https://www.bbc.com/news/world-asia-55004196.
This ideology was forged by Xi to be essentially nationalist in nature according to scholar Suisheng Zhao.
Suisheng Zhao, November/December 2016, Vol. 56, No. 6, SPECIAL ISSUE: THE RISE OF MEGA-FTAS IN THE ASIA-PACIFIC. "The Ideological Campaign in Xi's China." Asian Survey pp. 1168-1193.
It refers to a network of Chinese military and commercial facilities and relationships along its sea lines of communication that extends from the Chinese mainland to Port Sudan in the Horn of Africa and includes One Belt One Road initiative and Sri Lanka's Hambantota Port.

Virginia Marantidou, June 2014, Vol. 14-No. 7. "Revisiting China's 'String of Pearls' Strategy: Places 'with Chinese Characteristics' and their Security Implications." Pacific Forum CSIS: Issues & Insights 3-30.

In Political Science, the carrot &stick approach refers to the realist concept of hard & soft power. The carrot in this context could be the promise of economic or diplomatic aid between nations, while the stick might be the threat of military action.

Aditya Gowdara Shivamurthy, 2022- Bhutan's border conundrum: Nowhere near the finish line. November 10. Accessed June 2, 2023. https://www.orfonline.org/expert-speak/bhutans-border-conundrum/.

As reported in the Scroll.in on the 18th of November 2021- https://scroll.in/latest/1010870/satellite-images-show-china-is-building-multiple-villages-in-bhutanese-territory-near-doklam-report as well as in the CNN on the 24th of November 2020- https://edition.cnn.com/2020/11/24/asia/china-india-bhutan-doklam-intl-hnk/index.html.

Aditya Gowdara Shivamurthy, 2022- Bhutan's border conundrum: Nowhere near the finish line. November 10. Accessed June 2, 2023. https://www.orfonline.org/expert-speak/bhutans-border-conundrum/.

The term was coined first by Hungarian Communist Politician Matyas Rakosi during 1940s to describe his strategy to the non-Communist parties by "cutting them off like slices of salami."

Prabhash K Dutta, 2017- What is China's salami slicing tactic that Army chief Bipin Rawat talked about? September 7. Accessed June 2, 2023. https://www.indiatoday.in/india/story/doklam-china-salami-slicing-army-chief-general-bipin-rawat-1039864-2017-09-07.

Felix K Chang, 2020- No Sanctuary: China' New Territorial Dispute with Bhutan. July 29. Accessed June 2, 2023. https://www.fpri.org/article/2020/07/china-territorial-dispute-bhutan/.

The relationship between Tawang and Tibet can be traced to the historical times. According to the Tibetan as well as the Monpa (a tribe residing in Arunachal Pradesh) view, Tawang was a part of Tibet as Tibet exercised full-fledge political and administrative power over Tawang with the Monpas accepting the legitimacy of the government of Tibet. Tawang was one of the most important frontier administrative units of the government of Tibet before signing the Simla Convention in 1914. Even after the Simla Convention, the government of Tibet had continuously maintained de facto power over Tawang till the mid-20th century.  The historical relationship between the two regions can also be  traced to the fact that the famous Galden Namgey Lhatse Monastery was constructed in Tawang as per the wishes of the His Holiness the 5th Dalai Lama, Ngawang Lobsang Gyatso  (As Taken from- https://tibet.net/tibetan-narrative-on-tawang-a-historical-approach/ and https://tawang.nic.in/tourism/culture-heritage/ respectively).

These tactics refer to the use of non-military means – below the threshold of armed conflict – to achieve political objectives. Grey zone confrontation is the dangerous 'grey' area between peace and war. Activities can include political and election meddling, cyber threats and attacks, economic coercion, use of proxies, and many other measures – including military action. According to Andrew Dowse and Sascha-Dominik Bachmann, it uses the ambiguity of international law, the ambiguity of actions and attribution, or because the impact of the activities does not justify a response by governments.

Kavita Sewda, 2020- Understanding Chinese Territorial Dispute with Bhutan. July 15. Accessed June 2, 2023. https://thekootneeti.in/2020/07/15/understanding-chinese-territorial-dispute-with-bhutan/.

GT Staff Reporters, 2023- India's obstruction main obstacle to solving China-Bhutan border disputes: experts. March 30. Accessed June 2, 2023. https://www.globaltimes.cn/page/202303/1288312.shtml.
The joint statement issued by Bhutan and India after the visit of Bhutanese King Jigme Khesar Namgyel Wangchuck in April 2023 was primarily positive in nature with both the countries aiming to deepen their ties and expanding their partnership in areas such as Space and STEM Education. However, no explicit point regarding the border dispute was stated. It was stated by the Indian Foreign Secretary that the leaders of the two states discussed all aspects of bilateral cooperation, including "respective national interests." (As taken from- https://www.newdelhitimes.com/india-and-bhutan-share-an-exemplary-relationship-joint-statement/ and https://www.businessworld.in/article/Explained-As-Bhutan-King-Arrives-In-India-Doklam-Issue-Comes-Back-In-Spotlight/08-04-2023-472157/ respectively). 

This situation has now started to come up in Bhutan. Especially after the statement given by the Bhutanese Prime Minister was covered in the Indian Press.

In 2020, India reportedly asked Thimphu to end its border disputes with China so that all the stakeholders could focus on the complex trijunction. (As taken from- https://www.orfonline.org/research/bhutans-imperatives-and-indias-dilemmas/).

The Basic framework of Indo-Bhutan relations is based on the Treaty of Friendship and Cooperation signed in 1949 between the two countries and revised in February 2007. For many scholars this treaty created Bhutan to a "protected state" rather than a "protectorate". India's commitment to protect Bhutan against any form of aggression can be traced to Jawaharlal Nehru's support that he declared in the Indian Parliament. (Taken from- https://www.mea.gov.in/Portal/ForeignRelation/Brief_Bilateral_Brief_bhutan_Feb_2020.pdf and Andrea Matlas Savada and George Lawrence Harris,1993- Nepal and Bhutan: Country Studies, Published by Washington, D.C. Federal Research Division, Library of Congress)